Latest News
Politics
Tinubu VP: Tinubu submits his nomination form and selects 'surogate' as his running mate.
Bola Ahmed Tinubu, the former governor of Lagos State and a presidential candidate for the All Progressives Congress, has returned his nomination form to the Independent National Electoral Commission, INEC, but has chosen a'surrogate' running mate.
According to report, Tinubu was one of the aspirants who submitted their nomination forms before the June 17 proposed deadline by INEC.
Tinubu was said to have submitted a surrogate running mate but refused to unveil the name of the person.
Tunde Rahman, his media Spokesman confirmed this through an official statement
Extracts from the statement according to Punch;


However, an APC chieftain who pleaded anonymity confirmed to a media organization that the supposed running mate is Ibrahim Masari
Extracts from his words according to Punch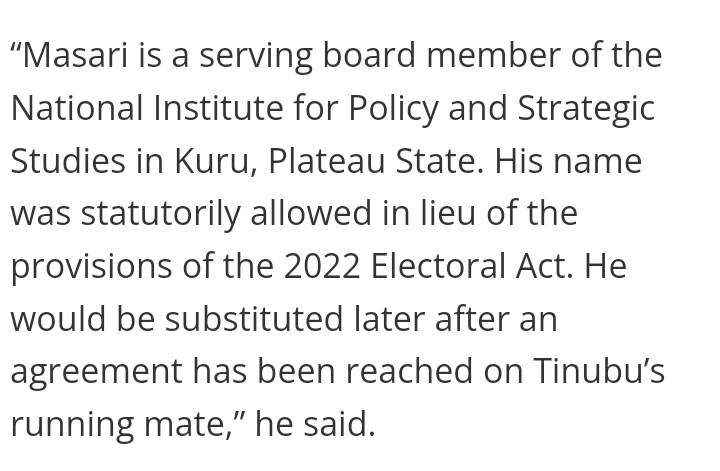 More so, Tinubu's campaign manager, Onanuga also confirmed to newsmen that Ibrahim Masari is his running mate.
Furthermore, he cleared the air that Masari will just be there for the main time until a strong force who can complement Tinubu is found.
Extracts from his words