Latest News
Politics
Shehu Sani Reacts After Buhari's Convoy And Kuje Prison Got Attacked The Same Night
Human Rights Activist and former Nigerian lawmaker Senator Shehu Sani has reacted to the double tragedy witnessed in Nigeria on Tuesday night as both the convoy of President Muhammadu Buhari and Kuje prison in Abuja had been reportedly attacked on the same night and at slim intervals.
The former governorship aspirant had bemoaned the terrible level of criminality in the country and the magnitude at which they have now spread around and operate, and to even sum it up, not being careful to attack the convoy of Mr President.
"The attacks on Kuje prisons and the President convoy sums it up; a daring and crippling evil bursting the impenetrable fortress of the state", he Tweeted.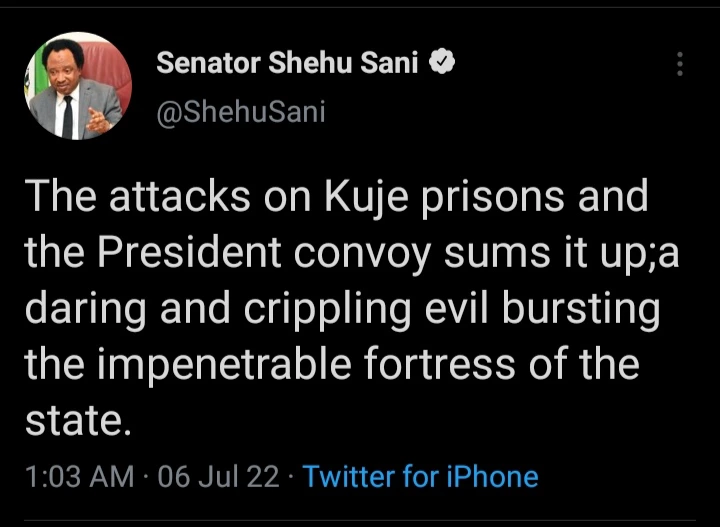 Recall that late on Tuesday night, there had been a report of President Muhammadu Buhari's convoy being ambushed and attacked by some gunmen suspected to be bandits.
Although they had reportedly opened fire on the convoy and injured two persons, the other security operatives and the DSS had intervened and prevailed on the suspected bandits.
Meanwhile, the two injured persons had been receiving treatment while Mr President and the other team were reported to have had a safe trip to Daura where he had gone for the Sallah festival.
However, the attack on Kuje prison in Abuja, almost immediately after the convoy of President Buhari was attacked has been generating lots of reactions from Nigerians, including Senator Shehu Sani who responded to the reports of the two attacks immediately.