Latest News
Religious
Prophetess Esther Ajayi Begs Bishop Oyedepo To Pray For Her At Shiloh 2021 (Video)
It was Saturday, the fifth day of Shiloh 2021. The event which started on Tuesday is being attended by great pastors and men of God across the globe. The annual programme themed 'More than a conqueror' began on Tuesday at the church's Canaanland in Ota, Ogun State and would be rounded off with a thanksgiving service on Sunday, December12.
As Bishop Oyedepo winds up the day's activities, something dramatic happened. Founder of Love of Christ Generation Church C&S Worldwide Rev. Mother Esther Ajayi met David Oyedepo.
This happened when the Bishop was praying for and laying hands on the ministers and pastors who attended the programme. Mother Esther Ajayi found her way to the front to join the pastors being prayed for. She pleaded with him to pray for her and went down on her knees.
Bishop Oyedepo quickly placed his hands on her forehead and prayed for her. Immediately she received the prayers, she stormed out of the venue in jubilation. Her feeling was like, 'Yes! I have got what I wanted.'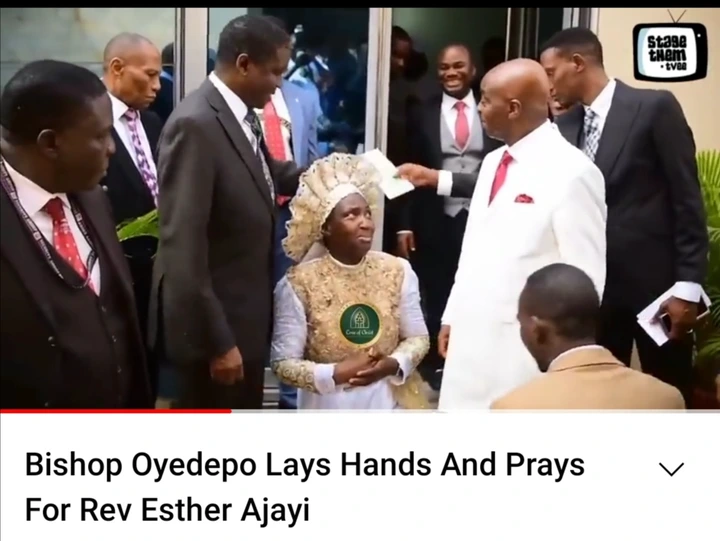 Who could have thought that a C and S church leader could get accepted by major Pentecostal leaders such as Bishop Oyedepo?
Rev Esther, who is an embodiment of humility, generosity, and passion for souls has been trying to bridge the gap between white garments churches and Pentecostal churches.
During the dedication of her newly built church a couple of weeks ago at Victoria Island, she invited prominent Pentecostal pastors to attend the ceremony. One of them, Pastor Adeboye of RCCG was even the one who preached on the occasion.
Watch the video here.