Relationship
Check Man's Reaction After He Caught His Wife With Another Man Inside His House
Some wives usually cheat on their husbands when they are off to work. These women arrange with other men to come at the times when their husbands are not in the house. One cannot tell why they take such decisions but some people think that it is a result of lust.
Watching the video carefully, you can see that a man is angrily chasing another man. What happened was that the man, who is the husband of the lady went out on his daily errands. The wife thought that he will not come home early as he has always been doing. However, things didn't go well as planned.
The boyfriend of the lady who happens to be someone's wife is a guy who drives a company car. Not knowing every time that husband is not around, this guy comes in and sleeps with the lady. But this day was very unlucky for this commercial driver as the man caught him red-handed ready to sleep with his wife.
The guy was seen holding some food in a pack and hurriedly walking to meet the lady who met him outside the house and collected the food. They were both in hurry to have fun inside the house. The lady collected the food and hugged the guy passionately.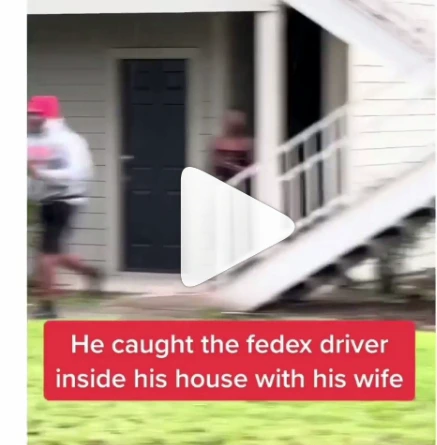 They then moved inside the room and set the ball rolling, however, the husband arrived in time to catch them. The guy was seen running away as the husband chase him angrily. Some social media users after coming across this said that these are some of the aimless guys who have been sleeping with people's wives.